The developers of the Aarogya Setu App said that there was no security vulnerability in the contact tracing application after a French security researcher Robert Baptiste, better known as Elliott Alderson, pointed that it could potentially leak data of the nearly 9 crore users who have downloaded the app
"A hacker on the Arogya Setu app (Aarogya Setu) raised questions and said that it has a security issue. On this, the Arogya Setu App team has given clarification. Read below
Source: Economictimes
Highlights
App team clarifies privacy concerns over Arogya Setu app
Former Congress President Rahul Gandhi has raised questions on the Arogya Setu App
An international ethical hacker has also supported Rahul's words

Arogya Setu app downloaded by millions of people shortly after the launch of the app. This app helps people to find the risk of coronavirus infection. It also helps to update the infected people near you. It can be downloaded on both Android and iPhone smartphones. This special app will help in finding out about the corona positive people present nearby.
What Indian Government Says About Privacy and Security Issue in Arogya Setu App?
"Aarogya Setu app is safe, says the government"
The Ministry of Health and Family Welfare has recently given out a word on the Aarogys Setu app suggesting that the app is completely safe and used only for Coronavirus contact tracing. It is suggested that the app is only used for health interventions and the personal identity of users isn't revealed. It is suggested that Aarogya Setu uses a user's location (if he or she is tested positive) to map the places visited in the past 14 days
News Source: indiatvnews
Statement from Team Official Aarogya Setu #AarogyaSetu on the data security of the App.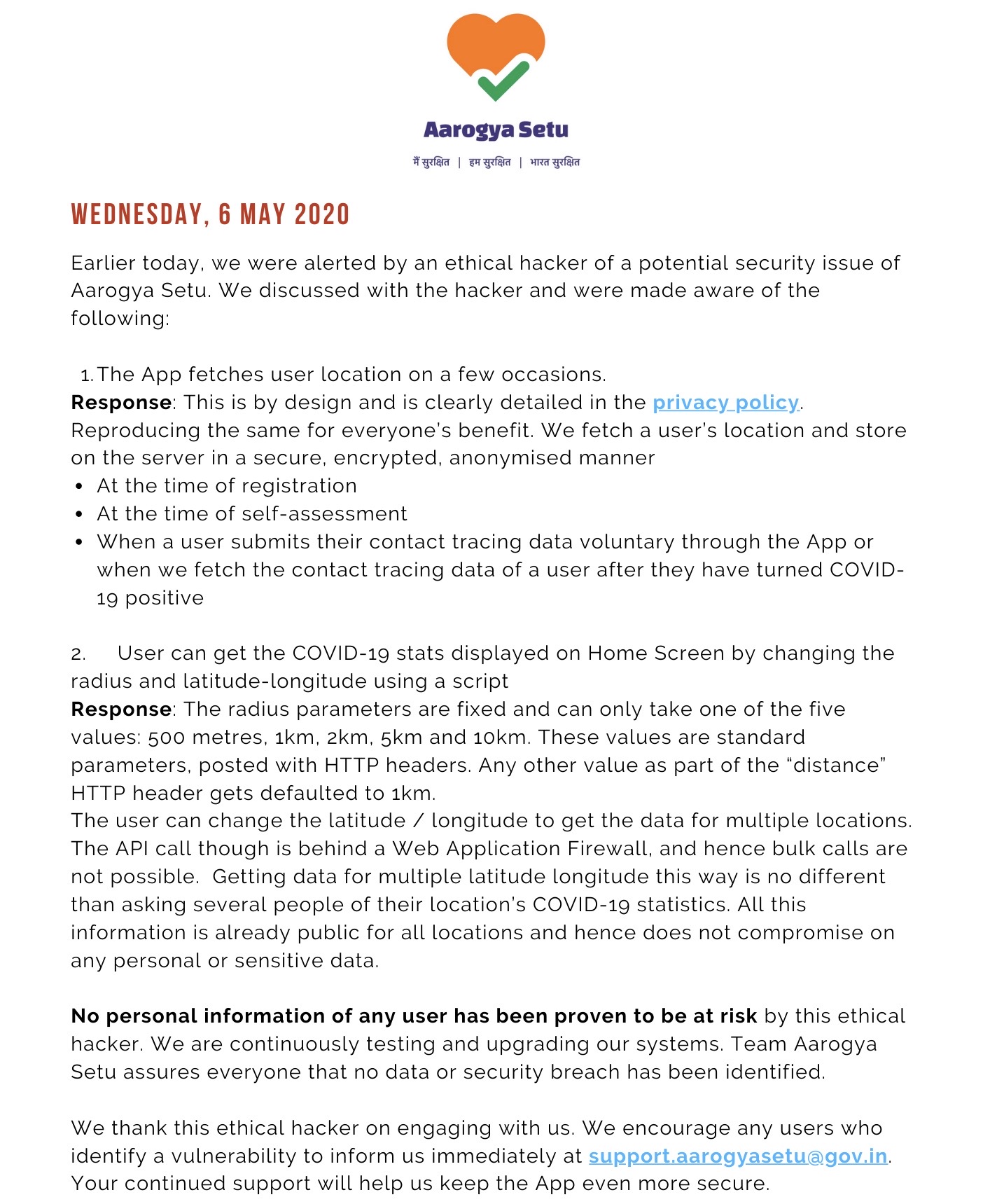 Arvind Kumar found Bug or questionnaire error in Aarogya Setu App
Aarogya Setu App Safe secure and has no privacy issues, here the team answered the few important questions
Why Aarogya Setu App uses Location and Bluetooth?
This is the way the app works. To know your location, and update you accordingly. It is also mentioned in his privacy policy. This is for the benefit. The user's location is not shared with anyone else. It is taken only at the time of registration, at the time of its assessment and while filling the contact tracing data.
Is there user's personal information at risk?
The team of this Arogya Setu App says that they are constantly updating their app. The team has not yet received any information about security breach or data theft.